Welcome to ScatterSpoke! Here's your map to finding your way around your new online retrospective tool.
Let's get you on the fast track to mastering the platform. When you log into ScatterSpoke for the first time, you will be surprised by how easy it is to grasp the foundations.
There are just a few steps you need to take to get started:
Let's explore each of them.
Getting to Know the Main Dashboard
The main dashboard is your base of operations in ScatterSpoke. From there, you can see all the teams you are part of, manage action items, and create or join retrospectives.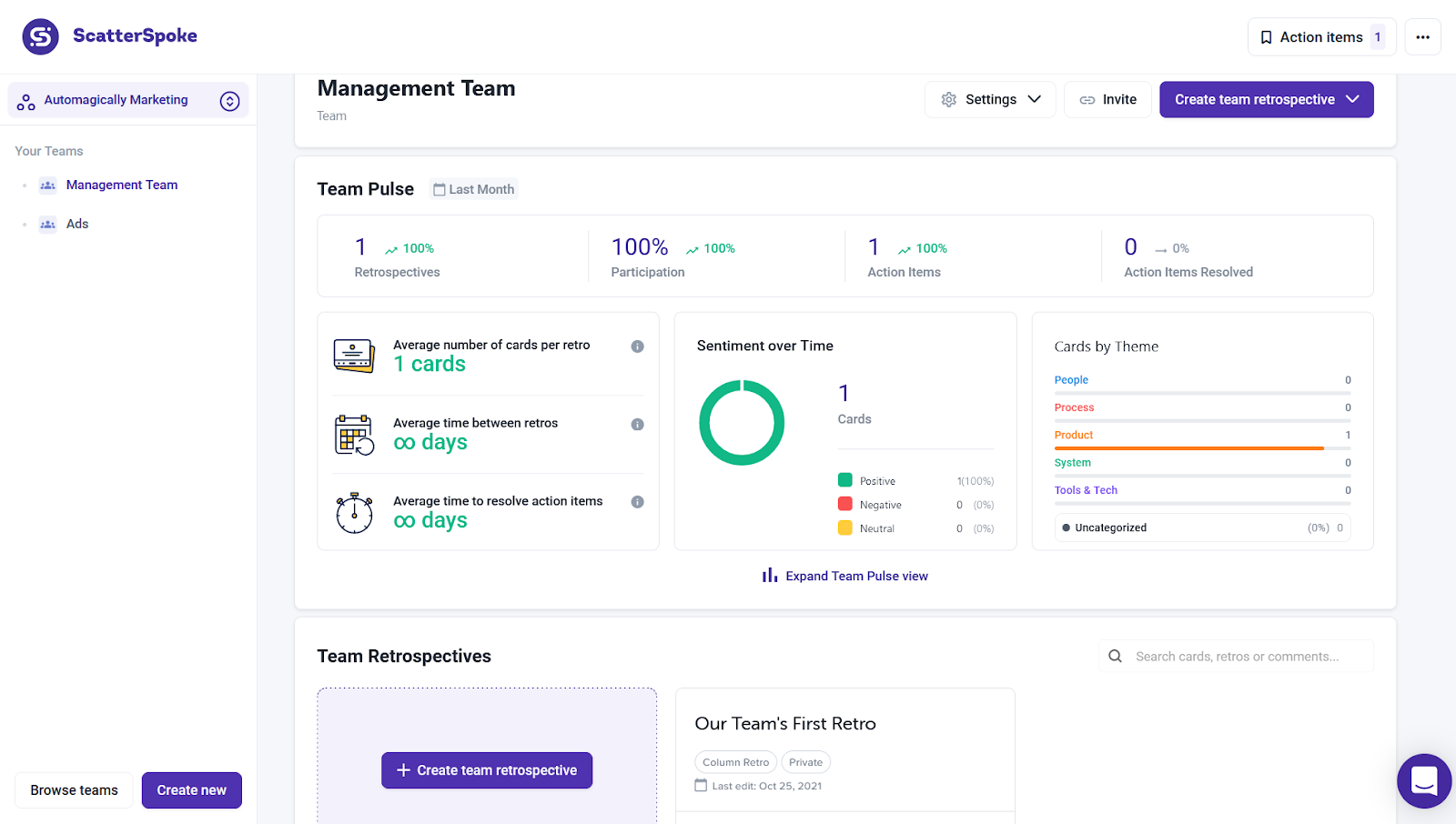 In addition, you can invite team members to the account, see past retros and enjoy a bird's eye view of the data gathered during all (or some) of your retrospective meetings held in ScatterSpoke.
The main dashboard allows you to see all unresolved action items and access the account settings tab directly. Note that action items are listed on the team level and not per individual retrospective. As a result, you'll be able to monitor items listed over the course of multiple meetings.
If you are part of more than one team in ScatterSpoke, you can easily navigate between them with just a couple of clicks from the dashboard.
By default, all retrospectives in an account are visible to every single member with access.
*Be careful when creating top-level organizational retros, because the entire account would be able to see data and action items from the meeting.*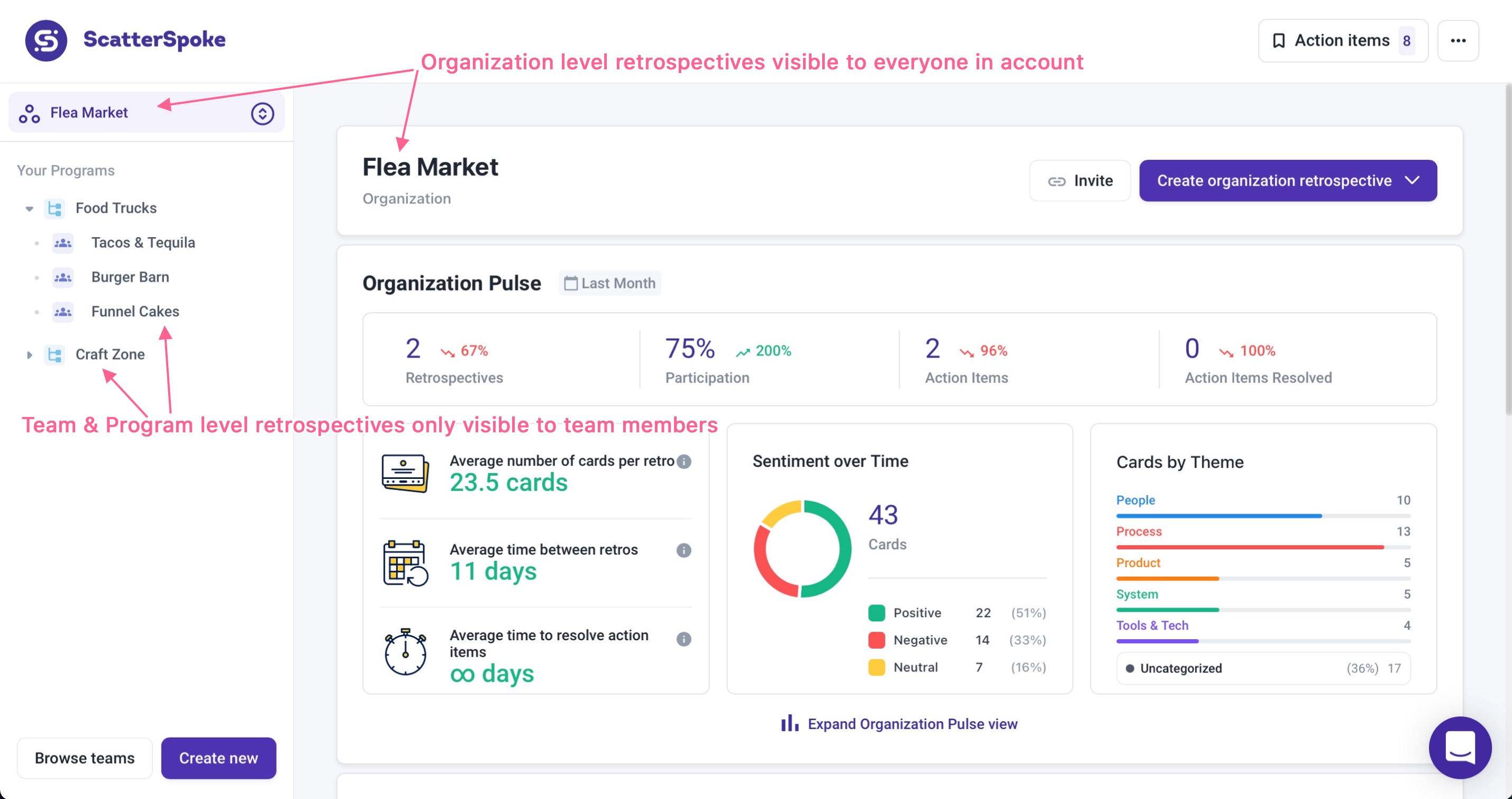 To ensure that everybody on the account sees only what they need to, you can easily create multiple teams within the organization and invite team members to each one. That way, they'll only see data from the teams they are part of.
Inviting Your Team to ScatterSpoke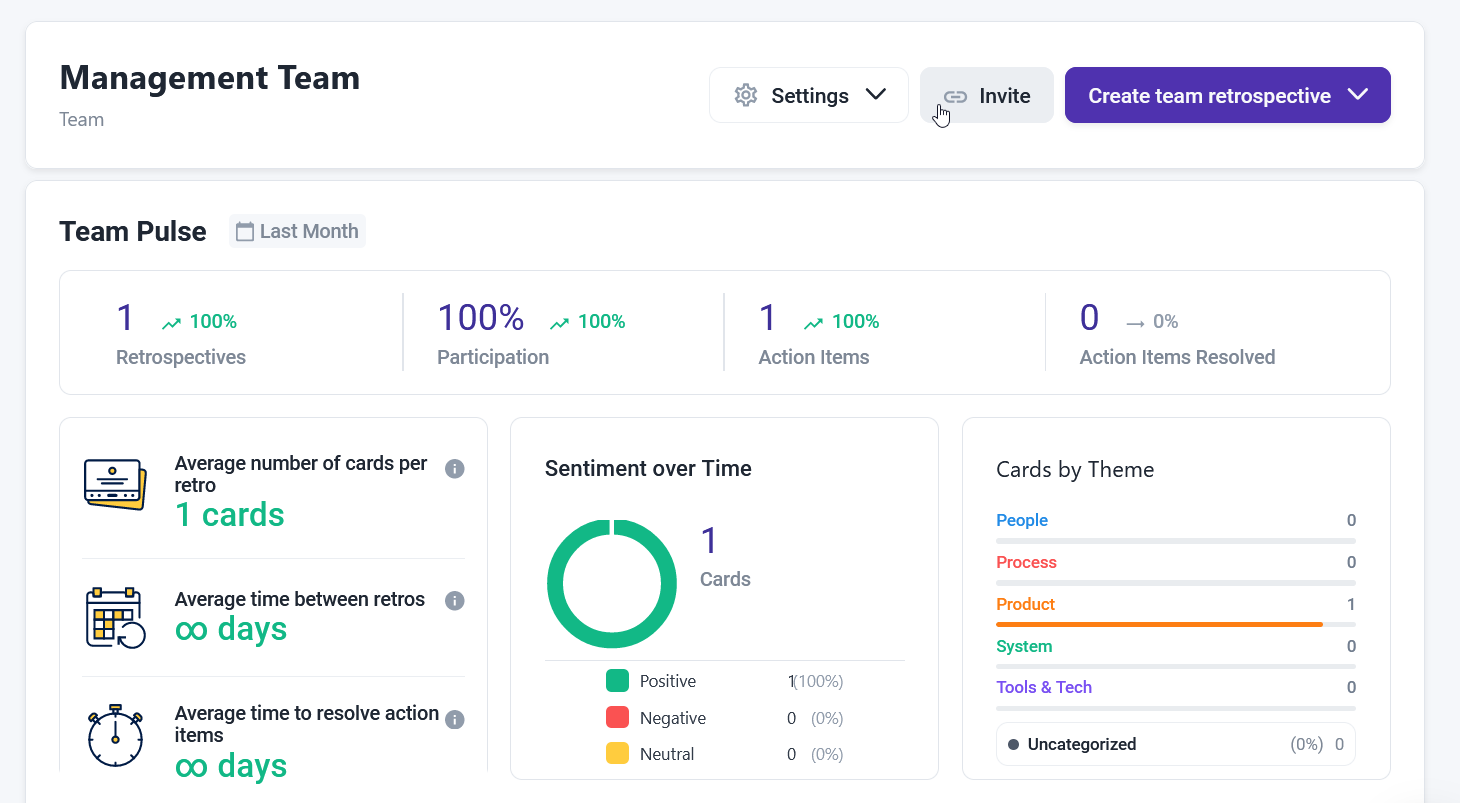 To invite team members to a ScatterSpoke account, select one of your teams from the main dashboard and click on the invite button located at the top right corner of your screen.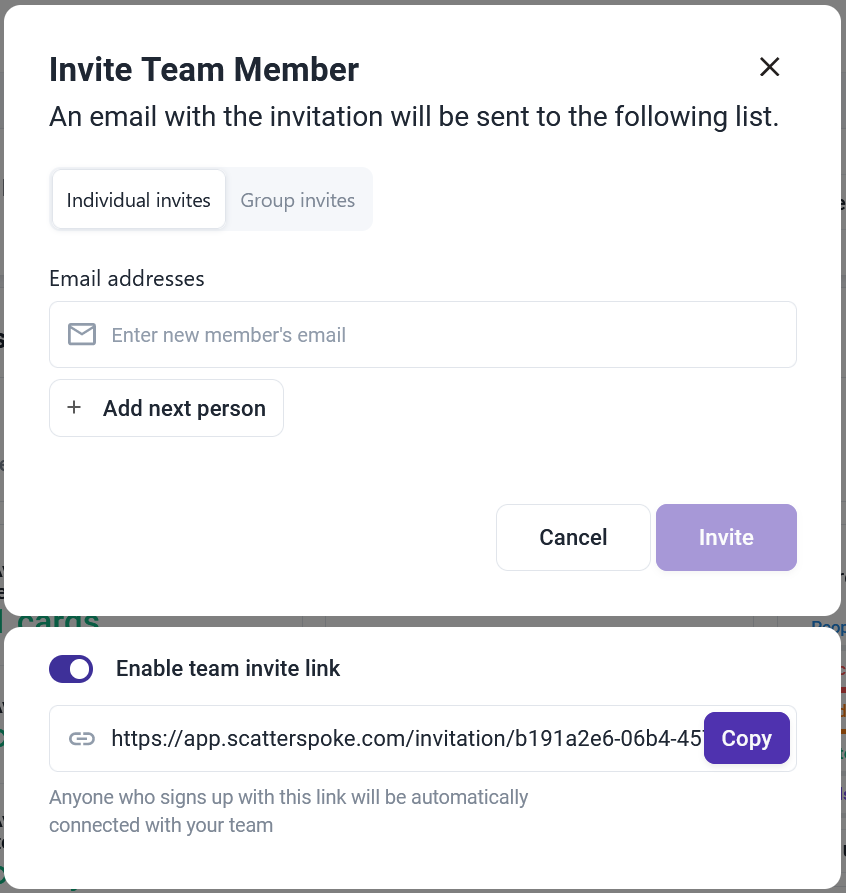 The pop-up modal provides you with several options to choose from for adding people to the account or team:
Invite individuals

Invite a group of people

Create an invite link accessible to anyone
Choose whichever one makes the most sense for your current needs and start inviting your team to ScatterSpoke using just their email address.
Creating a New Retrospective
While everyone is joining the account and taking their first look around, you can create the first retrospective for your team by clicking on the "Create team retrospective" button located in multiple places inside ScatterSpoke, including on the main dashboard.
*If you haven't broken down your account into teams, by default, you will be able to create a retrospective for the whole organization from the main dashboard.*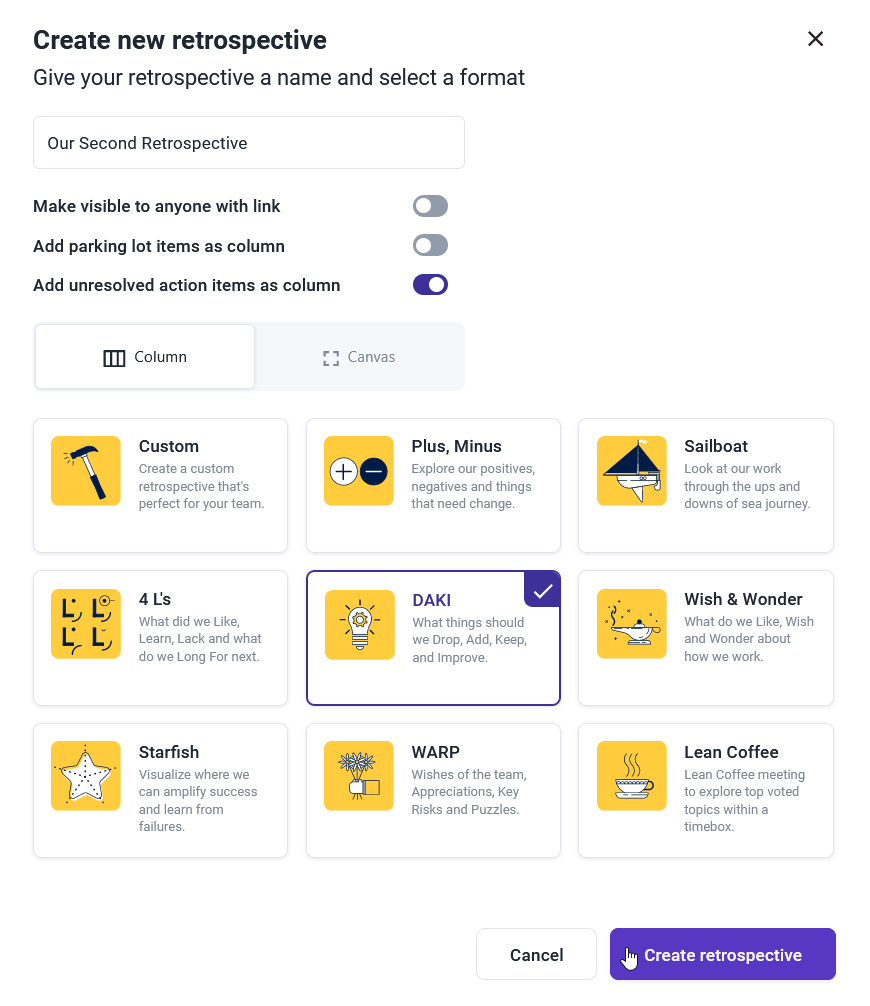 You can either start from scratch or select a retrospective template from the ready-made formats available in ScatterSpoke to get your team started. You can see a walkthrough of the latter in our dedicated guide (coming soon).
There are two varieties of templates available for creating new retros:
Column - organize your retro on a Kanban-style digital board

Canvas - organize your retro on a digital whiteboard
Select a template, name your retro and choose between the following accessibility options to finish setting up your first retro board:
Make visible to anyone with the link allows even people who are not part of the account to participate in the retrospective (ex. Stakeholders, dependencies etc.)

Add parking lot items as a column generates an additional column on the retro board for items that are on hold at the moment but are important to keep in mind
Add unresolved action items as a column generates an additional column on the retro board for unresolved action items
As a rule of thumb, if your team is new to retrospectives, column retro boards are easier to start with and faster to get used to. This makes them a perfect choice for your first steps in ScatterSpoke!
If you're looking to freshen up your typical retrospective style and seeking greater team engagement, the canvas retro templates are a great way to take the discussion to an even more creative place.

With everything in place, just click "Create retro" and you will be redirected to the brand new retro board.
Joining a Retrospective
Joining a retrospective created by another user or pre-set by you in ScatterSpoke happens through the main dashboard. Navigate to your Retrospectives area to select from all available retros to you, including those that have already passed.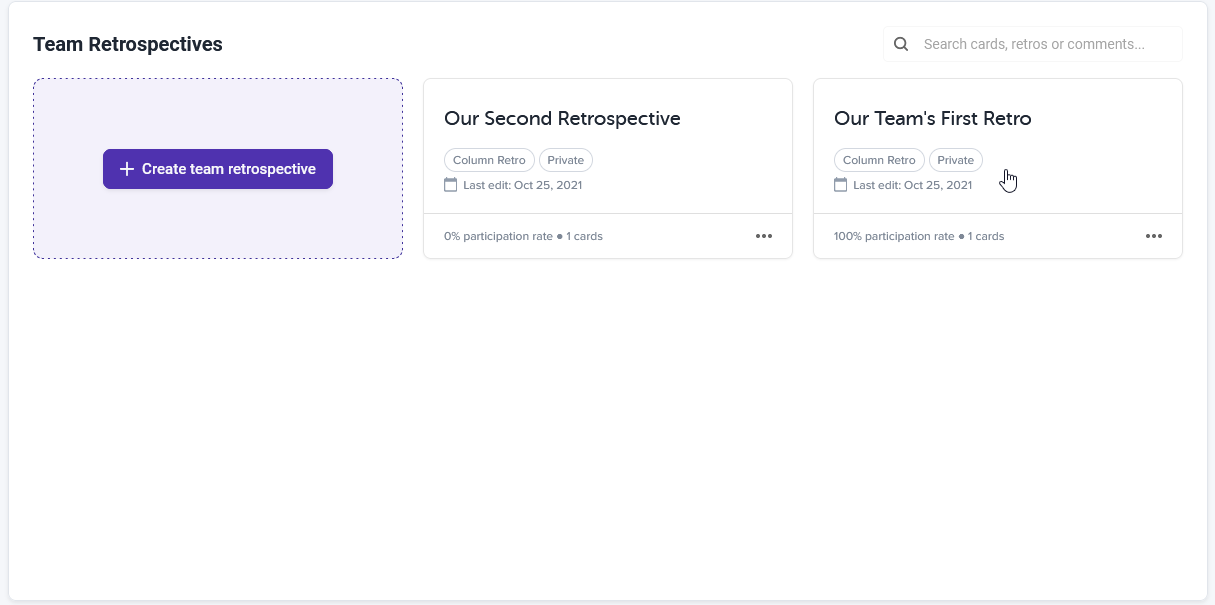 To join a retrospective, click into it and you will be redirected to the dedicated retro board.
Once everything is set and the team has gathered, you can start your first retrospective in ScatterSpoke and start on the path to continuous process improvement.
To learn more about facilitating or participating in retros with ScatterSpoke, check out this dedicated guide on the topic.